Greenville inpatient team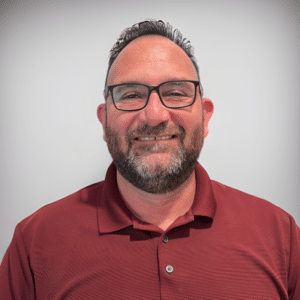 Chris Rubio
Alumni Coordinator for Greenville
If you would like to get in contact with Chris, please email [email protected].
My name is Chris Rubio, and I am a Certified Peer Support Specialist working with Recovery Centers of America as an Alumni Relations Coordinator. I have been working as a peer support since 2015 – in California, and for the last two and a half years here in South Carolina. My experience as a CPSS has been primarily in Homeless Outreach. Connecting folks that are housing challenged battling with substance use and/or mental health challenges. Being in long term recovery from substances myself, it excites me to work in substance use recovery, helping the next person come out of active addiction.
Read More
In your opinion, why do you believe an alumni program is so important for those who want to achieve long term recovery?

I believe that here at Recovery Centers of America, the Alumni Association is one of the most important pieces for people new to or coming back into long term recovery. The disease of addiction wants us isolated. So, the Alumni program offers community around those beginning their recovery journey.
If you could send a message to family, friends, and loved ones of those with substance use disorder, what would it be?
If I could send a message to the family and loved ones of our patients or those who love someone that is still struggling, it would be to continue holding the hope. Where there's breath, there's still hope!
What do you hope to accomplish as an Alumni Coordinator?
What I hope to accomplish as an Alumni Coordinator is to be one small part of our patients' stories and helping them believe that long term recovery is not only possible, but possible for them!
Travis Williamson
Facilities Manager
Travis is the Facilities Manager for Recovery Centers of America at Greenville.
Alaina Steadling
Trainer
Alaina is the trainer for Recovery Centers of America at Greenville.
Lacey Yelkovich
Recovery Support Supervisor
As Recovery Support Supervisor, Lacey holds the vital responsibility of overseeing the daily operations of a dedicated team of recovery support specialists. In this pivotal role, it is crucial that the RSS team provide top-notch stabilization services, ensuring that clients not only receive the highest standard of care but also find themselves in a secure and safe environment.
With a degree in Hospitality Management, Lacey has acquired valuable expertise in the field over the course of 15 years, honing her management skills and consistently delivering exceptional customer service.
Lacey's true calling lies in assisting individuals in conquering substance use disorders. Having personally experienced the challenges before, during, and after recovery, Lacey possesses a genuine passion for supporting others on their journey towards a healthier and happier life.
Tiffany McCaslin
Regional Manager of Business Development
Tiffany McCaslin is Regional Manager of Business Development for Recovery Centers of America in Greenville.  In her capacity, Tiffany is responsible for steering the discovery and pursuit of all opportunities aligning with RCA's business strategy and expansion goals.  She also takes charge of leading the regional team of Treatment Advocates for the Greenville facility.
Prior to RCA, Tiffany has held several business development leadership roles within the Substance Use Disorder space, most recently with Summit Behavioral Health Care in Georgia.  Early in her career, Tiffany gained valuable experience working in field sales and channel marketing for IBM.
Tiffany is a graduate of NC State University.
Gregory Mason
Clinical Director
Gregory Mason, MA, MBA, LPC/S, LAC/S, is Clinical Director for Recovery Centers of America.
Prior to RCA, Greg has served in progressive leadership positions within Behavioral Health for the S.C. Dept. Of Corrections since 2016; most recently as the Division Director in 2019. He has presented nationally with best practices and outcomes for substance use treatment and community reintegration, published research on peer support, and works as a consultant and speaker on digital interventions.
Greg has also served as a member of the South Carolina Air National Guard stationed out of McEntire AFB from 2016 – 2022 and deployed under Operation Enduring Freedom in 2012 while serving in the Army.
He volunteers time with NAMI and the ACA.
Lisa Goodnough
Chief Executive Officer RCA at Greenville
Lisa Goodnough, MBA, CMPE comes to Recovery Center of America as the site CEO with over 28 years of experience in healthcare leadership roles including Director of Strategic Initiatives, Administrative Director of Surgical Services, Vice President of Operations, and COO. Lisa has worked in several large academic and community based hospital systems in Tennessee and South Carolina and served in senior leadership roles in the development and growth of more than 52 behavioral health and SUD treatment facilities spanning across  8 states in the southwestern and eastern regions of the United States.
Lisa earned a bachelor degree in healthcare administration from East Tennessee State University and later earned her MBA from Fitchburg State University. She is a green belt in LEAN six sigma, and is a Certified Medical Practice Executive awarded by MGMA.
Lisa is passionate about patient centered service delivery particularly for patients suffering with SUD and their families. Driven by the effects of alcoholism and SUD on her own family, she has dedicated her career to battling addiction and providing hope and support for those affected by the disease. For Lisa, it is a personal journey, to see that patients and their families receive the highest quality of care possible without judgement, with welcoming hospitality, centered around the patient's needs and support, and healing for the patient and family.
"Every single patient must be treated like family. It is an honor to be selected to care for patients struggling with addiction, find healing and support, rebuild critical relationships, and gain confidence and trust within themselves. There is no better job in the world, as we are so fortunate through Recovery Centers of America to be a part of saving lives  everyday."