Raritan Bay inpatient team
Ashley Natale
Nurse Training Manager
I was born a caretaker. From my late teens, I served as an EMT learning all about emergency care on every level. My next stop in my journey was moving to California and starting nursing school. During this, I worked in the Naval hospital caring for the Active-duty military on a med-surge unit. Amid all of this, I gave birth to my first-born daughter. Through caring for her I then started caring for expectant mothers throughout their pregnancies, birth, and postpartum as a Nurse Doula and lactation consultant. My next feat was nursing in correctional healthcare in a woman's prison and a men's state prison. With this experience, I soon found my passion in psychiatric and substance abuse nursing. In 2019 when the opportunity arose at RCA I was compelled to apply for the position as a staff nurse. I started shortly after with RCA and fell in love with the opportunity and professionalism of this company. After a short time of working as a staff nurse, I was promoted to a Nurse Case Manager and then to a Nurse Training Manager. My goal is to grow with Recovery Centers of America and to "save a million lives."
Stephanie Lupo
Utilization Review Supervisor
Stephanie earned her master's degree in Clinical Mental Health Counseling at Monmouth University and has worked with many different populations within the mental health field. Stephanie joined RCA in 2019 and began as a UR coordinator. She quickly found her passion in UR and has recently stepped up as Manager of UR and Finance at Raritan Bay.
Ashley Fuery
Interventionist
With over a decade of experience in the Mental Health & Human Services field, Ashley Fuery has been trained in many crisis de-escalation techniques, including NAPPI, NVPI, TCI, and CPI. As a Certified Intervention Professional (CIP), Ashley excels at building an appropriate, trusting rapport with her clients, as her passion for helping people with mental health and substance abuse drives her motivation.
Ashley is no stranger to addiction; she lost her step-brother to the disease two years ago. She's committed her career to helping patients and their families get on the road to recovery. She often reminds families of her favorite quote: "Don't hate the addict, hate the disease. Don't hate the person, hate the behavior. If it's hard to watch it, imagine how hard it must be to live it."
Ashley is a big advocate of treating patients alongside of their families. It's easy to forget who the person struggling with addiction was before their disease – Ashley's goal is to rediscover that person on their way to recovery and mend the family.
Marguerite Warner
Senior Alumni Coordinator at Raritan Bay
If you would like to get in contact with Marguerite regarding alumni volunteer opportunities, events, or meetings for RCA at Raritan Bay, please email mwarner@recoverycoa.com.
Marguerite has worked in treatment for 9 years and joined the RCA team at Raritan Bay in May of 2019 as 12 Step Recovery Instructor. Educating patients on how to effectively work a program of action, treating the Mind, Body and Spirit. Marguerite's passion for recovery and understanding of the importance in developing a strong sober network is what led her to the position of Regional Alumni Coordinator where she can support patients and their families throughout their journey to achieving long-term recovery.
Read More
What do you hope to accomplish as an Alumni Coordinator?
As Raritan Bay's Alumni Relations Coordinator, my hope is to guide our patients, alumni, and their families through the process of building a strong support network. While recovery does require work and commitment, we cannot lose site of the joy that comes with embracing a new way of life and having fun along the way.
In your opinion, why do you believe an alumni program is so important for those who want to achieve long-term recovery?
We can do together what we cannot do alone. Addiction breeds isolation, connecting with others focused on their recovery produces Hope and provides the needed strength along the way. Getting involved with Alumni activities and volunteer opportunities builds a strong foundation in recovery.
What do you enjoy most about the work that you do?
Having the opportunity every day to make a difference in another person's life is what I enjoy the most about my work. Planting the seed of hope and watching it begin to grow is the greatest gift.
What is your favorite quote, and why?
My favorite quote is – "Your vision will become clear only when you can look into your own heart. Who looks outside, dreams; who looks inside, awakes." Carl Jung
This quote reminds me to look within each day and to live with an awakened Spirit.
Sharon Cartwright
Clinical Director
Sharon is a Licensed Professional Counselor, Licensed Clinical Drug and Alcohol Counselor, Certified Clinical Supervisor and National Certified Counselor with over ten years' experience in a variety of treatment environments including detoxification, residential, halfway house, and intensive outpatient treatment. Sharon earned her master's degree in Counseling at Kean University where she is currently an adjunct professor in their Counselor Education Department.
Sharon employs a person-centered counseling approach utilizing evidenced-based practices including Cognitive Behavioral Therapy, Motivational Enhancement Therapy and Mindfulness Based Interventions rooted in cultural competency to ensure the best possible client care.
Dr. Andrew Youssouf
Medical Director
Dr. Andrew Youssouf is double board certified in both Addiction Medicine and Emergency Medicine.  He was a frontline ER doctor for over a decade, witnessing and treating the fallout from addiction.  These experiences inspired him to come to RCA to lead the medical team and join the fight to help patients and their families get their true lives back.
David Dorschu
Chief Executive Officer, RCA at Raritan Bay
David Dorschu, MS, has over eighteen years of experience in the substance abuse field, serving in various leadership positions which incorporate the entire continuum of care, including Clinical Director, Risk Management Director, QA Director, Outpatient Program Director, and currently as Chief Executive Officer of the RCA at Raritan Bay drug and alcohol addiction treatment center. David began his tenure at RCA in 2016 as CEO of the Lighthouse, a 133-bed inpatient rehab center in Mays Landing, NJ. David has utilized these various leadership roles to form a treatment philosophy based on the latest, empirically supported research.
"The patients we are so fortunate to serve have provided to us a tremendous gift: the willingness to share their pain and offer us a glimpse into their brokenness. They are under no obligation to do so, therefore we must treat this gift as a sacred trust and privileged responsibility."
David earned his Master's Degree in Counseling Psychology from Villanova University.
Stephanie L. Davis
Regional Business Development Manager – NJ / NY
Stephanie is the Regional Business Development Manager for RCA's New Jersey and New York region. In this role, she works with communities, families and individuals to help those suffering from substance use disorder receive the treatment they need and begin a life of recovery.
As a solution-oriented individual, Stephanie believes that mental health, substance abuse and the overall well-being of a community starts with education. Accordingly, she received a BSN from Atlantic University and a BHS from Indian River State College. She has also broadened her range to become a certified interventionist, recovery coach and life coach.
With sixteen-years of experience in mental health and substance abuse treatment, she has been able to improve the performance, integrity and functionality of industry leaders and first responders alike. She is gifted in her ability to empower others to find their voice, show up as their authentic selves and actualize their potential. She takes pride in her commitment to her team to aid in carrying out the vision of recovery.
Stephanie is also a loving mom and wife. In her free time, she enjoys quality time with her children. She owns Golden Paws which is a nonprofit that helps give service dogs to children suffering from seizures.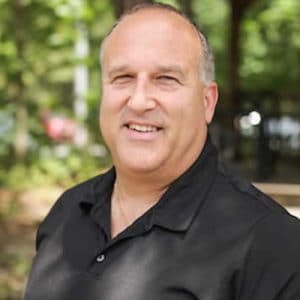 Joe Parisano
Facilities Manager
Joseph A. Parisano has over 20 years experience in law enforcement as an officer and supervisor. He has over 10 years experience working in the substance abuse field, working in security management.
His combination of personal and professional experience and passion to help others works exactly with RCA's mission to save 1 million lives. He started with Lighthouse as the Black Car Driver, then to Transportation Supervisor and ultimately to his new role as Facilities Manager. He earned his degree in Criminal Justice along with many other law enforcement courses and programs. He is a longtime homeowner and 5-year resident of Atlantic County.